VARZI VIVA Cultural Association
Varzi town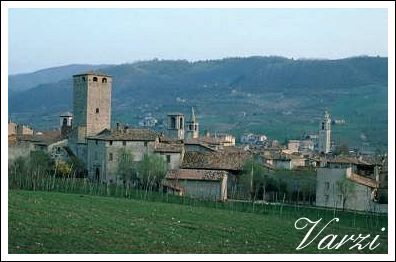 Varzi lies at the centre of Stàffora Valley, in the province of Pavia, at 416 m a.s.l., in the heart of Oltrepò Pavese.
The fame of this oasis was born of an incredible cocktail of natural beauty, mild climate, blue sky, perfumes, tastes, colours and suggestions. It is difficult to find a small town with such varied views as Varzi: the mountains and the hills covered with luxuriant vegetation, the waters of Stàffora that flow happily, the roofs and walls with delicate colours gently faded by time. Above all, the Medieval historical centre deserves a visit; it is so characteristic that everyone can draw an itinerary of his own: via del Mercato, via della Maiolica, vicolo Dietro le Mura, via Roma, via Di Dentro. Here the old heart of Varzi throbs, here you can understand the desperate attempt to preserve the traces of a past rich with architectural marks. Everywhere you can breathe air of the past: VIII centuries witnessed by churches, towers and a  castle. Authentic pearls of a reality that's running away... 
January 1998
How to get to Varzi
The main access to Varzi is by the state road no. 461 of the Penice Pass, winding up the valley from Voghera...

Facts about Varzi
Varzi is a Commune with 3,497 inhabitants as of 31 December 2002 (ca. 1,800 living in the town itself), situated in the province of Pavia, in the region of Lombardy, Italy.

Useful Addresses
All public's utility addresses of "Oltrepò pearl".

What to do at Varzi
If you are not going to Varzi just for a specific happening, here is a list of things you can do in and around town.

Festivals and Products
Varzi is world know for its salami who has recently won the European Union's recognition as a Denomination of Origin Protected product, as well as that of the Italian State (Law 30 May 1989, no. 224).

The Monuments
Varzi can boast a very well preserved medieval historic centre, with fortifications, narrow alleys and porches which witness the town's role in the past as a transit and stop station for caravans and convoys following the so called "salt road".

Picture gallery
Some great images for to represent the natural, architectural and historical beauty of Varzi.

Town plan
The interactive map of Varzi. An evident representation of village's regularity who derive from an medieval architect's careful project.