VARZI VIVA Cultural Association
Local festivals and products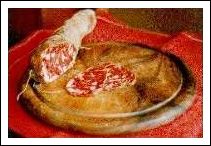 Salami's Varzi
(© by Pietro G. Marchetti)
Varzi is world know for its salami. Varzi salami has recently won the European Union's recognition as a Denomination of Origin Protected product, as well as that of the Italian State (Law 30 May 1989, no. 224). Varzi salami is still made by small local producers who sell it directly in their shops scattered around the old town centre.
Another typical product is a special almond cake, which – being hard – can be preserved for quite a long time. It is sold in local pastry shops.
Although fruit and vegetable growing has declined in the past few years, Varzi can also be mentioned for its production of juicy and tasty fruit, particularly red and white apples of the "delicious" variety. These are often sold directly by local growers as is honey, offered by a few dedicated producers.
A typical dish of the local cuisine certainly is "ravioli". The stuffed pasta is home made mostly on special occasions, such as on New Year's Day and Eve, during the Carnival and on the town patron saint's day (St. George). Both the ravioli stuffing and the sauce is based on minced beef stewed in red wine with chopped onions, a few bay leaves, a little nutmeg grating and a handful of salami paste.
Recurring local festivals: the Salami Festival (first Sunday in June), flea market (July and August every Sunday; rest of the year last Sunday of the month), the Fruit Festival (first Sunday in Oct.), theFestival of All Festivals (second Sunday in Oct.) and the Festival of Home Made Bread at Nivione, the Chestnut Festival at Pietragavina (third Sunday in Oct.)
Local religius traditions include processions on St George's Day (the town's patron saint), on Chorpus Christi's Day, on Good Friday (preceded by visits to "Jesus' Tomb"). Other special religious services are held on Angel's Day (first Sunday in October) and on the Holy Trinity's Day (first Sunday after Whitsunday) at the Reds' Oratory, on the baby Virgin Mary's Day (8th September) at the Whites' Oratory and on New Year's Eve at the Parish Church when Te Deum and Tantum Ergo are sung in Latin on the occasion of a solemn blessing. Special celebrations also during Mary's Month (May). On St. Antony Abbas Day (Sunday following the 17th of January) cattle (nowadays mostly horses) blessing takes place.
Among civil festivals, Liberation Day is celebrated in a particular way, as Varzi proclaimed itself a "partisans' republic" for a short time during the fascist rule.
Pietro Marchetti