VARZI VIVA Cultural Association
Rossi's Church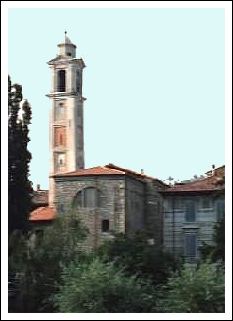 Rossi's Church
(© Antonio Di Tomaso)
The village of Varzi offers, other than the most famous Romanesque church of the Capuchin monks, an architectonic pearl, an adventure in the cities historical center: the "Church of the Red".
There is an area which the historians want dedicated as the first habitated area of Varzi, lived in after its construction in 1275, by the Marquisate of Malaspina, whose buildings are clothed in religious history, with the taste ful and creativity of which this area is still renowned. The "Church of the Red" was constructed here.
The "Church of the Red" was definitely built in 1636. This church is so named because here gathered the brotherhood of S.S. Trinita, with their characteristic red cloaks, worn by all.
From an architectural stand point this represents an original example, and in many ways a predecessor of the Lombard 700 style. Its floor plan of unique naval style is a common example in Oltrepò. Of great worth inside, is the wooden statue of the "Guardian Angel", from 1684, by Antonio Perico of Milan, gilded by Ambrogio Giussano of Pavia. With its simple beauty it is the main attraction for visitors. Other items of particular value are the scroll works in walnut in the 400 style beautiful pulpit all ready displayed at many art exhibits in the church and the furniture from the sacristy, also in walnut.
In short, this pearl which the people of Varzi cherish had been loved forever.
But, even visitors with little time can not limit themselves to just this remarkable work. You can not for example, not notice the street plans of the village, well designed throughout. Built on the model of Roman streets
It's basic structure is built around the Via di Dentro road which all of the other roads turn off of , straight and parallel. This main thoroughfare is aligned with colonnades which creates more visual interest and is enclosed between the two majestic and antic medieval towers of the Port of Sottana (also called the tower of the Mangini) and the Port of Soprana ( or of the "clock").
These are all excellent reasons why this church can be considered of great importance even outside of the area around Varzi.


Antonio Di Tomaso
(Traslation: Domenico&Christine)